KITT4KIDS: GoFundMe.com/f/KITT4KIDS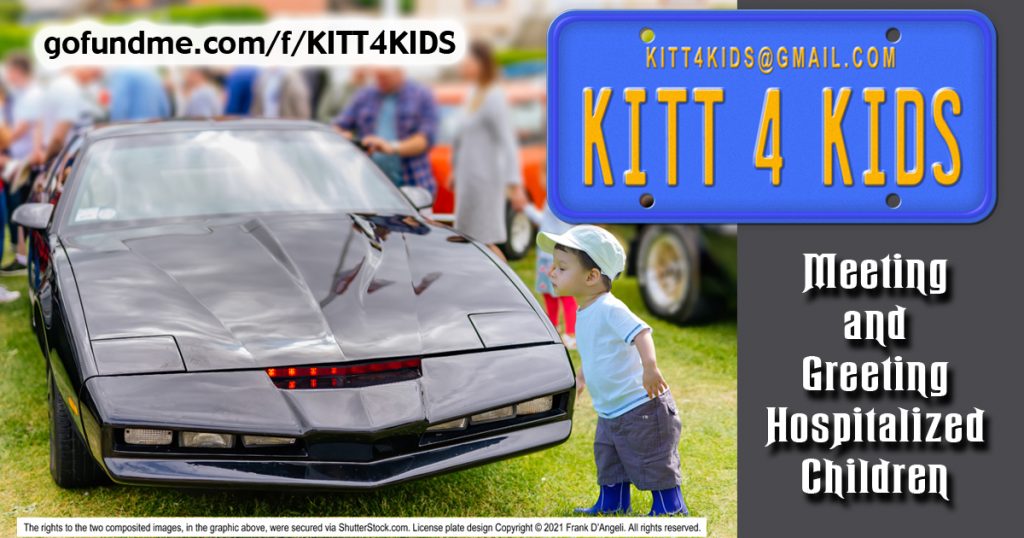 In January, 2021, my wife and I watched 'Race for Life', (an episode from the TV series, KNIGHT RIDER) in which a young patient is overjoyed to meet, and speak, with K.I.T.T., the crime-fighting, supercar.  I thought it would great to bring a K.I.T.T. replica to my place of work, Boston Children's Hospital, and have it meet and greet patients. I realized children may not be familiar with K.I.T.T., so created a video of K.I.T.T.s most impressive stunts, and it will play, in a loop, on an iPad, situated next to K.I.T.T. when on display. Plus, with a new movie now in the works, K.I.T.T. will soon become famous all over again.
For now, to see some of K.I.T.T.'s great stunts, you can view a great video by Mahesh Walatara which I'd like share:
I thought it would be wonderful if I could have the original voice of K.I.T.T., actor William Daniels, record specific lines for this endeavor. So I contacted his manager, Sandy Joseph, and she set everything in motion that resulted in Mr. Daniels generously donating his time and talents to record the voice of K.I.T.T. once again. All I had to do was pay for the recording session, which I proudly and gladly did. Once those voice files were in my possession, I set out looking for a car that could be transformed into K.I.T.T., which was based on a 1982 Pontiac Trans Am.
After weeks of searching, on March 30th, 2021, I purchased a 1990 Pontiac Firebird, to act as the 'donor' car. Here it is being delivered on April 3rd, 2021.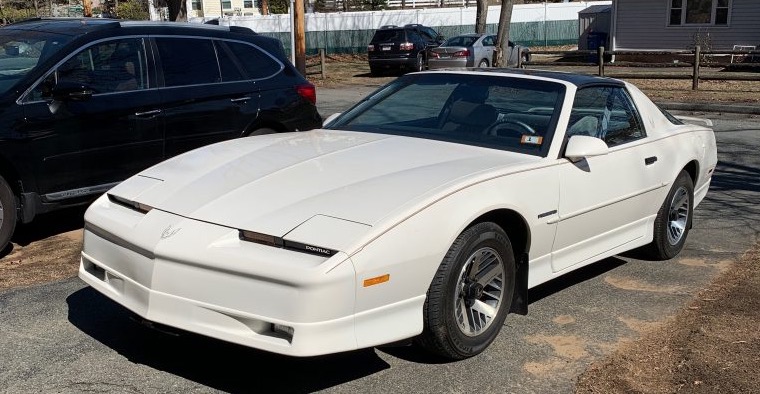 You can see a video of the car here:
Thank you to Coty LeBlanc, of Driven Auto in Hudson, NH. Not only did Coty sell the car at a very fair price, he took the time to bring it to my mechanics (shout out to everyone at Silver Arrow Service, one of the best service centers you'll ever find) for the pre-sale inspection, and again for some needed repairs. Coty even delivered the car to me in Wakefield, MA, and, on top of that, he donated a very generous sum to this endeavor.
While waiting for all the body parts to come in, I noticed the car was stalling constantly. Luckily, Steve at Automated Transmission in Methuen MA, diagnosed the problem and the car now runs beautifully.
I must take this opportunity to thank Albrecht Auto Group and Woburn Foreign Auto Body, for providing thousands of dollars worth of paint and body work, without which, K.I.T.T. would not have been within my financial boundaries.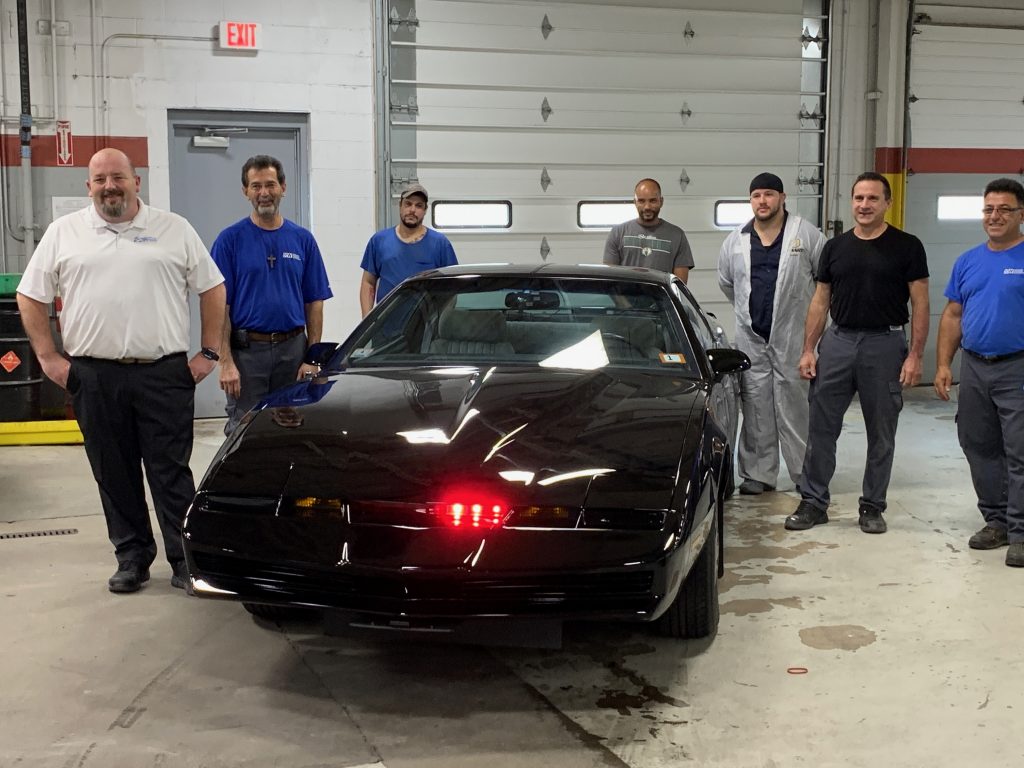 And I would like to thank FinishMaster, for donating thousands of dollars in paint supplies.
I am forever grateful.
The reason for this campaign is simple. I'd like to keep K.I.T.T. meeting hospitalized children for years to come. And though I'm taking all precautions to keep K.I.T.T. in tip-top shape (security cams, GPS alarm system, rear back up and cross traffic alert system, a roped off display area, so fingernails, rings and watches won't mar the paint, etc.), the cost of keeping a vintage vehicle on the road, over time, will be significant. Any little bit of help would be appreciated.
And thank you to the other companies that helped make this K.I.T.T. a reality.
– KRW Enterprises (TurboCaps, Nose, Scanner, Blackouts, Deflectors)
– Automotive 12v Specialists of Wakefield, MA. Top notch installation of alarm, rear camera, cross traffic alert, and will be installing the scanner and sound boards.
And thank you to the employees of the following organizations that have been so helpful.
– Hawks MotorSports
– The Massachusetts Registry of Motor Vehicles
– Sacchetti Insurance
– Knight Industries of Kentucky
Thank you in advance for your donation!
https://www.gofundme.com/f/KITT4KIDS
Trackback from your site.